2023 Fashion Trends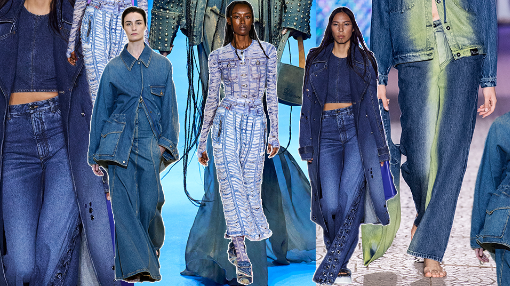 2022 held many memorable fashion trends, from Y2K clothing to pajama pants. Other trends such as cargo pants and platform shoes were popular as well, and although 2023 has only just started, there are already tons of predictions on what will be the biggest trends this year.
Sheer clothing- Sheer clothing has been around for a long time, since the 1920's sheer stockings have been worn, and in the 1950s, chiffon and organza dresses were very popular. The 1980s was a big step for sheer clothing, Madonna would wear mesh or sheer lace tops, popularizing it among teens. Since 2007, sheer has become a trend, every year sheer clothing is changing how it's being worn, whether it's layering sheer clothing with other clothes or wearing semi-sheer clothing, it has, and will continue to remain a strong trend in 2023.
Denim- Originally invented in Nîmes, France, denim pants have been a must have for as long as they've been around. Other denim clothing has been invented over the years as well, everything from skirts, to tops, to jackets. According to Vogue, more unique denim pieces will be popular in 2023, such as flared jeans and lace up denim skirts.
Tassels- Dating back to Ancient Rome, tassels have been used for embellishments, ornaments, and decorations for centuries. Decorating everything from pillows, blankets and canopies, it's no surprise that it found its way to clothing. During the Victorian Era, tassels became trendy as a part of shoes and parasols, but later on stopped trending due to them being excesses of the past. During the Art Deco Period, tassels once again rose in popularity and started being added to graduation caps. Now, to this day, tassels have remained a popular detail on many different articles of clothing, 2023 will be no different.
Preppy- In the late 1890s/early 1900s, preppy fashion was worn by wealthy men who went to preparatory and Ivy League schools. By the 1930s, college women began to wear preppy fashion as well, and in the 1950s the trend expanded even more. Items such as sweaters, collared shirts, rugby shirts, bowling shirts, and denim were staples in many preppy and a branch of preppy known as Americana's fashion. In the 80s, preppy fashion took a turn, now being more common among people of lower classes, and khakis, blazers, and sweaters knotted over the shoulders became staples in preppy fashion. Around this time brands such as Tommy Hilfiger, Calvin Klein, and Lacoste rose to popularity. The prep fashion of the 90s was vastly different from previous years, introducing white button downs, pleated skirts, low waisted pants, and boot cuts. Now, preppy trends such as sweater vests, collared shirts, and plaid and argyle prints are trending, and will continue to trend into 2023.
Blazers-  The blazer was created in 1885 by Englishman John Redfern and was originally for men, however changes in society went hand in hand with wearing blazers. Throughout WWI and the roaring twenties, women began to wear blazers with skirts, and after WWII, Chanel started creating more elegant suits for women. From the 1960s, suits changed and evolved, and became a sign of feminine power. The 1980s introduced oversized shoulder pads, and women who wore them were seen as ambitious and elegant. To this day, blazers are a popular piece of clothing in many wardrobes, and 2023 will continue to carry the trend of blazers.