Look Around You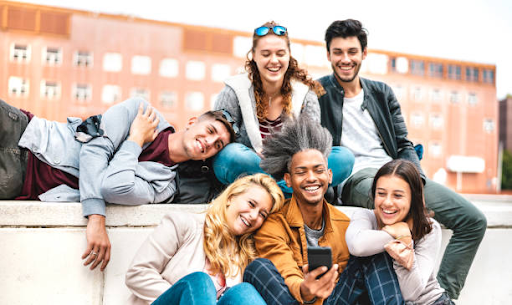 Looking around school, sometimes one feels like they are in a fashion show. Everyone has their own sense of style and there is no better place than a school to showcase that!
Looking around me, everyday I get to see something new. Pink hair, fuzzy shows, yellow pants, heavy "clown" makeup, crop tops when freezing, heavy jewelry, crazy shoes… The list goes on! However, so many students have so many questions! How long does it take these people to dress up this way? What time do they wake up in order to accomplish their looks? Why do they do it? What is their inspiration? How can they endure the weather? What do they think about the students that always have something to say about their looks?
Let's interview some students. Lynette Azaryans, Sania Haideri, and Megan Schweitzer were all asked their opinion on school fashion. This is what they had to say:
Azaryans: "I think that a lot of people go with trends. Old trends modernized basically. Definitely dress for the weather for some people. Others not so much. Ever since the dress code protest, people have been dressing more revealingly and taking advantage of the lighter dress code. It gave girls more options and created a border between how boys and girls dress. There are a couple crazy outfits; a couple look like clowns. Some furries too. Overall, I think there are a lot of trends. Some inappropriate clothing like super short shorts. I have seen demonic influenced clothing too."
I definitely see what Azaryans mean when she claims that a lot of students go with trends. That is something high school students definitely look out for and try to follow as much as they can. As Azaryans mentions the dress code protest, it is very prominent now that students don't get dress-coded as much as they might have a couple years ago; and that has definitely impacted how some students choose to dress in one way or another.
Haideri: "I think that is very diverse. I see pajamas, crop tops but essentially everyone wears what they feel expresses them the most. Lots of plaids and crop tops, PJs and hoodies because of the weather. Lots and lots of sagging in boys as I've seen it. I think freshmen are very careless and it seems like they prioritize their comfort whereas the upperclassmen seem to have more thought and put together outfits. Of course there are some underclassmen too, but a lot of them choose comfort over looks."
Schweitzer: "I think that it's very diverse. A lot of people dress to be comfy and others to look good. A lot of people dress inappropriately considering they are in high school like gangster stuff that I have seen in some guys. People dress very casually too, others don't really care what they wear."
Schweitzer and Haideri both have similar things to say. Many students dress for comfort and looking around the school, one can see that it is also very diverse. At the end of the day, school is one place that students have the freedom of expressing themselves. And that is what Pitman High students do; whether they choose comfort or looks, it all depends on their taste and personalities!