Review: 57th Super Bowl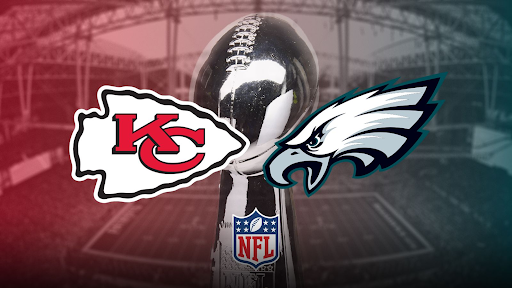 This is it! The showdown to determine the true NFL team will begin in two weeks. The Philadelphia Eagles will face off against the Kansas City Chiefs in the 57th Annual Super Bowl at 6:30pm ET (3:30pm PT). 
The Kansas City Chiefs marked this as their 6th appearance in the Super Bowl. Along with that, the Philadelphia Eagles will mark this as their 4th appearance in the Super Bowl. Both teams are energized to return in the Super Bowl, but who will walk victorious? 
What chances the Chiefs have of winning the Super Bowl
The key factor for the Chiefs to take home the trophy is the starting QB, Patrick Mahomes himself. Despite his ankle injury, he was capable of passing for 327 yards, which was over his average passing yards per game and 2 TDs against the Cincinnati Bengals in the AFC Championship of this year. All Chiefs fans are most likely pointing their eyes toward Travis Kelce for the receptions. To avoid losing either Patrick or Travis to any more injuries, the Chiefs offensive line must locked-on defensive players like defensive backs, Brandon Graham and Josh Sweat. 
Another key factor that the Chiefs need to block for the win are their RBs, Jerick McKinnon and Isiah Pacheco. These two running-backs are known for their capability of running for a pass play.
What chances the Eagles have of winning the Super Bowl
Unlike Patrick Mahomes, Jalen Hurts is active without injuries, which can prove his mobility to be tricky to catch. From his rookie year in 2020 to this day, Jalen Hurts had made touchdowns not just by passes, but also by keeping the ball.
In 2020, rushed for 3 touchdowns in 354 yards, but for this season, he rushed for 13 touchdowns in 460 yards. It comes to times like this where the Philadelphia Eagles must secure their QB from the Chiefs players, including the Chiefs defensive end, George Karlaftis. 
Rookie with a good start
This year marked George Karlaftis first year with the Chiefs and his statistics are quite proficient. George made a total of 33 tackles as a defensive end, but his sacks were at a total of 9.  
Who do you think will win this year's Super Bowl?
For my interview, I asked Kabir Taunk, an honors and college prep Junior of Pitman Highschool.
 In his perspective, he says, " The Chiefs are gonna win because their offense is so potent with Patrick Mahomes…I don't see the eagles defense stopping him. His ability to improvise will defeat the eagles stellar pass rush and open up his receivers. Along with that, the Eagles aren't that good."