Oscars 2023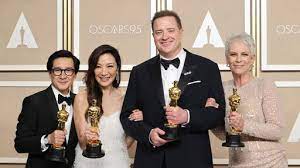 This year, the 95th Academy Award ceremony took place on March 12, 2023, and was aired live on ABC. Commonly known as the Oscars, is an award ceremony held typically for the film industry. With a number of 24 different categories such as best picture, best actor/actress, best supporting actor/actress, best director, best original song, best animated feature, best visual effects, etc. I mainly want to talk about the best actors/actresses.
For best actor, Brendan Fraser won for his incredible acting in The Whale. The Whale is a drama/narrative film about an unhealthy English teacher, Charlie, trying to rekindle his relationship with his moody teenage-daughter. While watching this film, I couldn't stop tearing up, as it is definitely a tear jerker. Fraser completely deserved an award for this, as no movie has ever made me feel that way.
Best actress went to Michelle Yeoh, from Everything Everywhere All At Once, which is an adventure/sci-fi. This is about a stressful mother who doesn't know how to step back and take a break, laying everything on her relationships, slowly deteriorating them. Well, that is what I thought it was going to be about. I was surprised when it was actually about multiverses and one woman who had the power to save the world.
Best supporting actor/actress also went to cast members from Everything Everywhere All At Once. Ke Huy Quan and Jaime Lee-Curtis did an outstanding job as supporting characters. Without them, the film differently wouldn't be as amazing as it was. I hold a special place in my heart for Ke Huy Quan. First shown in the movie Goonies, he was my favorite character. 
I asked Pollo Carrillo, a senior at Turlock High, what he thought about the Oscars.
He said, "I believe the Oscars are rigged, like the Grammys. Oscars pick and choose– but then so does every award show. I believe that for best supporting actress, Angela Bassett from Black Panther should've won. She played a bigger role than Jaime Lee Curtis. But overall, this year was a really good ceremony. I'm so glad Brendan Fraser and Ke Huy Quan won awards". 
I completely agree with Pollo. Although I don't personally know them, the amount of excitement and proudness I had for the winners is unbelievable. 
I am beyond proud of everyone who won. Whether it was the crew from Everything Everywhere All At Once, The Whale, Guerillmo Del Toro's Pinocchio, All Quiet on the Western Front, Avatar: The Way of Water, Women Talking, TopGun: Maverick, every single one of them are amazing, and they all deserved the award.