Spotify vs. Apple Music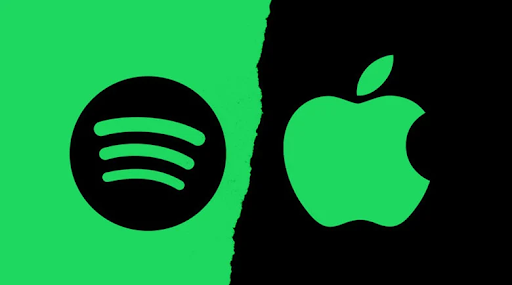 Spotify and Apple Music are the 2 biggest music streaming services in the world, so naturally they seem to have a bit of a rivalry. Even beyond the companies themselves taking jabs at each other in marketing, it seems that their users are even more ready to duke it out and argue for their favorite brand.
The first point that can go towards Spotify is that while Apple Music may have a free month-long trial, on Spotify you can play music for free with their non-premium option. The only holdup is that you can't listen to albums in order or specific songs, and every couple of songs you will be interrupted with an ad.
Something that Apple Music has is that they boast a higher song count than Spotify. Apple Music has a whopping 100 million songs while Spotify only has 70 million. While this number may seem impressive, keep in mind that both streaming services have pretty much any song that a person would want.
Another benefit that Apple Music has over Spotify is the option for a more hifi sound. Apple Music supports spatial audio and lossless streaming, while Spotify promises a high-tier audio quality version, there has been no word as to when this feature will arrive.
One thing that Spotify does have over Apple Music is pricing. While nothing insane, Spotify on average costs a few dollars less than Apple Music depending on which plan you choose. Something that Apple Music does have in its favor is that it offers a cheaper option for students with a reduced price lower than any other Apple Music or Spotify Premium subscriptions.
I asked Pitman student Kailey Alvarez some questions about Spotify and Apple Music to get a student's perspective on this. When asked if she used Spotify or Apple Music she said that she used Spotify and thought that Spotify was better than Apple Music because it includes everything that a streaming service needs. When asked whether she thought it mattered if someone used Apple Music or Spotify she said that if she knew someone who used Apple Music she would question their life choices but not look down on them.
From this random student interview it seems that the youth believes that Spotify reigns supreme. Now this isn't nearly a big enough sample size to prove that Spotify is the most popular in Pitman, but it at least shows one student is very adamant about it. So while it doesn't really matter whether you use Spotify or Apple Music, people will still hold their opinions on both streaming services.