J. Cole's New Album, "KOD"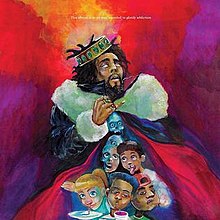 Hang on for a minute...we're trying to find some more stories you might like.
Jermaine Lamarr Cole (AKA J. Cole) is a current hip hop singer. He was born January 28, 1985 in Germany 
J. Cole was inspired by Tupac, Eminem, and Canibus. His first album¨The Come Up¨ came out in early June of 2009. He then starting to get noticed by more famous rappers such as Jay Z. J. Cole then went on to make a second album ¨The Warm Up¨ that was released in 2009.
Shelby Tornquist, a current high school student commented, "My favorite album by J. Cole is probably '4 Your Eyez Only.' I listened to it on replay for months!"
J. Cole's rapping career only got better from there and soon he soon became a worldwide known rapper. He even went on to making eleven more albums including his very recent "KOD."
J. Cole is starting to get known for dropping unexpected albums. With such short notice J. Cole tweeted on Monday April 16, 2018 that he will be releasing a new album "KOD" (which stands for "Kids on Drugs, King Overdose and Kill Our Demons").
He officially released his album on April 20, 2018. His cover is very unique and has a lot of symbolism to it and is said to be how the whole album started in the first place. On the cover J. Cole is dressed as a king and below him there are three skulls and four children all doing different variety of drugs.
He is not encouraging drugs in any way or form. On the top of the album it reads "This album is in no way intended to glorify addiction." He is trying to get a message through in the lyrics, but in order to know the meaning behind the cover, one will have to listen to the album to understand.
All twelve of his songs on his current album "KOD" are on the Top 100 in the Billboard. Three of his songs made it in the top 10 at the same time! His song "ATM" made number six, "Kevin's heart" was number eight, and "KOD" made number ten. He is breaking records with his new album- one of his other many albums "Born Sinner" even resurfaced in the Billboard 200.
"J. Cole is my mans [sic]. I have listened to every song he has ever made. I definitely recommend KOD to everyone!" Devyn Cervantes, a current student exclaimed.