Blankets of Hope/Love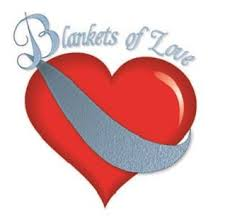 Although distance learning  may have caused many setbacks in the school year for teachers and students, organizing events and clubs is not one of them. This year, like many years before, Pitman High School organized the Blankets for Love club.  The club advisor is Mr. McCabe, a teacher at Pitman High School. 
When asked what this club was about he answered, "Blankets of Love is about giving hope in a hopeless situation. We deliver the blankets with notes to children's hospitals to brighten their day while they are getting serious procedures or fighting life threatening illnesses."
A lot of kids in hospitals are waiting for something to brighten their day and this club is the perfect way to do that. Although it may be small to other people, it will not be a small thing for those who are getting these blankets. Small acts of kindness can go a long way.
Mr. McCabe says he brought this club from a district that he used to work in [from Southern California] that was originated by Suzy Gallegas. 
He says, "She has organized the production of over 30 miles of fabric into blankets! When I moved here to Turlock, I wanted to bring it with me. So I did! We have made over 250 blankets over the years here at Pitman."
This club allows students to reach into themselves and bring out their creative side while at the same time being able to help people. This may be one of the reasons that attracts students to this particular club. The opportunity to create and help others draws the attention of many who want to spread kindness. This was the case for Katrina Hawley, a club member and student at Pitman High School.
"I wanted to join this club because I love to crochet and I wanted to do something good for the community," says Hawley.
But although the Blankets for Love club is still going strong in helping others, over the years Mr. McCabe describes how it has become more difficult to do this than other years. 
"I have noticed over the years, people just getting too busy. We can help each other in so many ways and many find that helping a stranger is not something they desire to do. It gets harder and harder to recruit kids to sit for an hour and cut out a blanket and prepare it with a personal note or picture to send to a kid they may never meet. But that kid who is stuck in a hospital somewhere, fighting for their life, gets a colorful blanket and notes that lets them know they are not alone. We as people have become so selfish and worry about our own likes and posts that we forget there are kids out there that don't get to experience life, everything is through a window and they wish above everything else, just to go outside and play. It's heartbreaking," he says.
Now that schools are in distance learning, Hawley describes how it's affecting the club. Two of these hardships are the making of the blankets and the recruitment of members.
She states, "It has been more difficult to make blankets together. It is also hard to recruit more members." 
But throughout all the difficulties, the Blankets for Love won't be stopped by these hardships. They won't be stopped in trying to spread the message of hope, kindness, and joy.
McCabe states, "Hope is becoming a lost sentiment. We fall deeper and deeper into depression and deeper and deeper into our phones and we forget that we are stronger as a community. We are stronger when we sacrifice for others and the only thing we are comfortable with is sacrificing for ourselves. Your life gains so much meaning when it involves lifting others up with nothing in return.Instead we lift others up so we can form a group and then our identity becomes that group and it gets ugly. The more you help people, the more joy you receive."
Hawley states, "I hope that people who are in the hospital and are hurting know that they are cared for."
It's easy to see how this event brings hope and kindness into the world in a time where discouragement may be present more than ever. No matter the circumstance, there is always a way to be kind, and the Blankets for Love club shows exactly that. So, thank you!