Midnights + (3am Edition) Album Review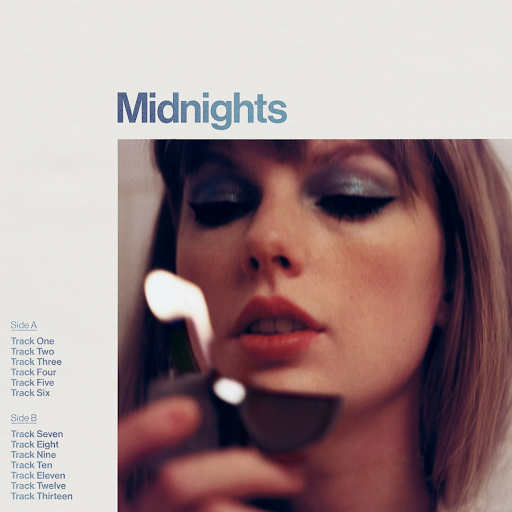 Taylor Swift just released a new album on October 21st, 2022. A lot of people were disappointed at the first listen, because most people thought it was going to be an album full of sad songs. But in my opinion, I think this is one of Taylor Swift's greatest albums. 
The album starts off with a song titled "Lavender Haze", which then leads into "maroon". "Anti-Hero" then follows. These three starter songs are all very upbeat, and set the mood for a more pop-type album.

The next two songs on the album are "Snow On The Beach (feat. Lana Del Rey)" and "You're On Your Own, Kid". There is a slow transition into more sad, heartfelt songs that show the more emotional side of the album. 
The songs pick up speed again once we hit the remaining songs like "Question..?", "Labyrinth", and "Mastermind". Majority of the songs on this new album are happy upbeat songs that put you in a good mood. 
There are only a handful of songs that sound a lot sadder than the rest. This album compared to some of her most previous works sounds a lot more happy and cheerful. Two of her most recent previous albums, 'folklore' (2020)  and 'evermore' (2021) , are filled with songs that are very gloomy sounding and more on the quiet side.
Most people that have listened to her new album have mixed emotions about it. People were convinced that it'd be another sad album, but in my opinion, I'm happy to see Taylor Swift branching out into new music genres. A lot of people think her music is amazing, and some people are relieved she's put out another happy album. 
There were two different albums released on October 21st, 2022. The first one was "Midnights", and then we have "Midnights (3am Edition)". They're basically the same album, but the 3am edition has 7 other songs that weren't included in the original album. 
These songs are 1. "The Great War", 2. "Bigger Than The Whole Sky", 3. "Paris", 4. "High Infidelity", 5. "Glitch", 6. "Would've, Could've. Should've", and 7. "Dear Reader". I think that these are some of the best songs on the 3am edition album, and I prefer some of these songs over some on the original album.
Some of my favorite songs on this new album are "Labyrinth", "Glitch", and "Would've, Could've, Should've". I like these songs because the first two are very fun songs and I like the lyrics. I really like this album and I like how it's different from her previous music. I prefer the 3am Edition better because of the extra songs.
Interview Questions: 
"What do you think of Taylor Swift's new album?"
"What is your favorite song on the new album?" 
"Do you think this album is better than her previous music?"
'Do you like the original Midnights, or do you prefer the 3am edition better?"
I interviewed Allison Pannell 9, Abril Lara 9, and Eloisa Cuevas 9 on the topic of Taylor Swift's new album. Here's what they said.
Abril Lara: "I really enjoyed it, and it was definitely something new. I like the vibe and it was something a lot different from everything else she's done before. My favorite song was Snow On The Beach, I didn't expect it but I really liked it. I also liked Lavender Haze. I will say no, because she definitely has better albums than this one but I liked this one. I like the 3am edition better, because I think the extra tracks added something to it."
Eloisa Cuevas: "
Allison Pannell: "I think Taylor's new album nicely expresses how her talent and style has grown over her years of being a musician. My favorite song on the album is "You're On Your Own, Kid". I don't necessarily think it's better than her previous music but I think it's definitely different in some ways. I like the 3am edition better."